Welcome to Upper Mesopotamia!
After staying in the city of Mardin in the Southeast of Turkey, we decided to drive south towards the Syrian border to visit the unheard city of Nusaybin. A city which is commonly missed by those visiting Mardin and this region of Turkey.
Sitting across the border from the Syrian city of Qamishli, Nusaybin caught our attention whilst we were looking for places to visit near Mardin.
As we kept driving south, we noticed the barren and beautiful landscape with a few scattered villages along the way. It was our first ever time heading in this direction and so naturally we were filled with all sorts of emotions.
The best part about driving this way to Nusaybin was that we were able to drive along the border of Syria. The border is obviously very strongly patrolled especially after the war that happened in Syria. Beyond this border, we have the an area of land which is classed as no-mans-land and beyond that we have the Syrian city of Qamishli. Home to around 200,000 people, it's around a 10-hour drive to Damascus.
We finally arrived into the city of Nusaybin on what was a rather cold, windy and rainy day at the end of December 2020.
As soon as we entered the city, we noticed that we had to go through a police patrol area. This is quite common when entering cities and towns in this part of Turkey, and by now we were used to it.
It was actually quite a breeze going through and I think this may have been because we were tourists in a rental car. Yes, they are less cautious when they notice tourists travelling across the region.
So we finally made it into Nusaybin. The city is pretty small with a population of around 100,000 Kurdish, Turkish and Syrians, making it a vibrant city with a range of cuisines to try throughout. The style and structure of the buildings look a lot like what you'll find in Syria, which makes sense considering that this city was once a part of Syria.
Whilst the city has had bad press and is strongly patrolled due to its close proximity to Syria, we had no issues. In fact, we found the locals to be very welcoming and friendly and everyone was just getting on with their everyday lives, as is the case in many places around the world which people are sceptical about visiting. This is when you truly start realising that political tension and normal daily life of the people are two different things.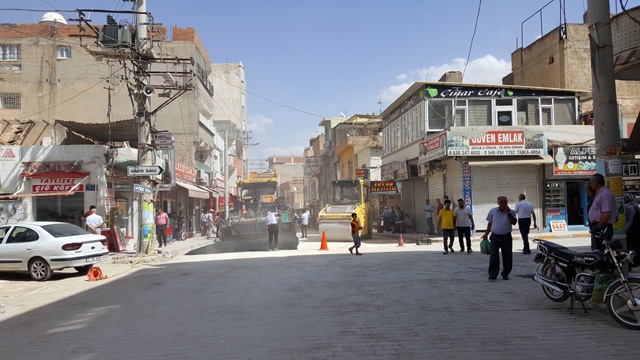 Did Salman Farsi Stop Here
What's fascinating, is that this place is also believed to be the place where the notable Salman Farsi stopped on his quest to find the truth. He was notably known for travelling from Persia to Madinah in Saudi Arabic with his journey being made for the purposes of finding the true religion. He made random stops along the way after being instructed by priests, rabbis and other religious ministers. Of course, we know that he ended up in Madinah and eventually converted to Islam, but on his way, it's believed that he stopped in Nusaybin after being instructed to go and meet a priest there. Below is the location where it's believed he made a stop and rested before making his way to the city's notable Saint Jacob's Church.
Jinns of Nusaybin
Another interesting thing about Nusaybin is that some records indicate that this city is where a number of Jinns hailed from. Specifically, Jinns which had an encounter with the Prophet Muhammad PBUH. I don't know much about this but it's just something I read about before visiting the city. The Jinn which are mentioned in Hadith are referred to as Jinn of Nusaybin and scholars do say that they were from around the Sham (Syria) region, so it could fit I guess.
Saint Jacobs Church – Oldest Church in Upper Mesopotamia
Our first stop was the Mor Yakup Kilisesi, which is known in English as Saint Jacobs Church. The name was given as it was the Bishop Saint Jacob who built it and it's also where he is believed to be buried. The entire area joins together with the Zeynel Abidin Mosque Culture and Faith Park, which perfectly presents modern day and historical religious harmony.
The church has a long history before it became a church. There is some Greek inscription on the South side of the building which reveals that it was formerly used as a baptistery in the 4th century. It's therefore believed to be the oldest baptistery in the world and one of the oldest churches in Upper Mesopotamia!
In 717, the building and surrounding area was destroyed by an earthquake, which is when the baptistery was converted into a church and which is why you see all the ruins.
After some excavations, graves were found in parts of the area. Skeletons were found lying on their back with arms crossed on their chest and faces turned towards the east. I don't really know why this was the case, but it may have been due to some religious significance.
Unfortunately, when we visited, the gates were locked, so we couldn't really get inside and explore, but we were told that it was even more fascinating inside!
Zeynel Abidin Cami
Next door to the church you have the Zeynel Abidin Mosque, which was constructed in the 12th century AD, making it nearly 1000 years old. However, the only thing that was built later was the minaret which was a later addition in 1965. This was probably my favourite part of the entire complex as it stands all by itself in the middle of the courtyard, unlike minarets of other mosques I've been to in Turkey.
Together with the Saint Jacobs Church, this Mosque is a UNESCO World Heritage site, which means it's preserved well and it has legal protection by an international convention.
The name Zeynel Abidin was given to the Mosque, as it's believed that the 13th generation grandchildren (which includes Zeynel Abidin and his sister) are buried here.
At the south-east corner of the Mosque, you'll find what is believed to be the graves of Zeynel Abidin and his sister, which can easily be visited from inside the Mosque also.
The complex of the Mosque is shaped in an open courtyard with a garden, which also happens to be a perfect selfie spot for the local youth. It's quite amazing to see the amount of cut stone that was used and all the details carved in to the walls.
Visiting the Syrian Border
We decided to end our trip dramatically by visiting the Syrian border, to contemplate on what things would have been like 10-15 years ago. We had come so close and it just felt like the trip would have been a waste without coming here. We looked across the horizon and pondered whilst looking over at the Syrian city of Qamishli. It was pretty quiet at the border and we didn't really see anyone around.
We could see life going on as normal across the border in Qamishli and it made me think; what once was an everyday occurrence and scene of crossing borders now ceased to exist in this laid back and friendly city.
Hoping that one day borders will open up and travel will become possible between these two amazing countries!