Once the capital of the Umayyad Empire, Cordoba city has witnessed growth upon growth since its very inception. Unique in its very own way, the city is located in the Guadalquivir valley and has always played a great part in the history of Andalucia.
Wondering around the city will allow you to witness the many remnants left behind by former succesful civilisaions.
If you're planning on spending some quality time here, be sure to take advantage of all that Cordoba has to offer.
Read on to find out about 8 of the best sites to visit when in Cordoba.
The Cordoba Synagogue
Located right in the centre of the Jewish Quarter, this synagogue is one of only three remaining in Spain. That's the best reason to visit it! The building consists of designs in the Mudejar style which includes decorative motifs by Muslims of Andalusia.
ENTRY FEE:
EU residents free, others 0.30 EUR

OPENING TIMES:
1 June – 31 August
Tue – Sun and holidays:
9 am – 3 pm
Closed on Mondays (except for holidays)

1 September – 30 June
Tue – Sat:
9 am – 9 pm
Sun and holiday:
9 am – 3 pm
Last admission: 10 mins before closure
The Taurine Museum
Cordoba's most visited museum, this place is a great attraction for those interested in bull fighting. Built in the 16th century, the museum is located within the famous Maimonides Square within the Las Bulas house. Be sure to visit the library on the first floor where you can find historic documents and magazine related to bull-fighting.
ENTRY FEE:
€4
Friday: Free entrance
OPENING TIMES:
Tuesday to Saturday:
10 am – 2 pm
4.30 pm – 6.30pm
Sundays and Festives:
9.30 am – 2.30 pm.
Afternoons: closed.
Monday: closed.
The Citadel (Alcazar)
Built in the 14th century within close proximity to the Great Mosque of Cordoba, this citadel had been specifically built for the Christian Kings to distinguish it from the castle close by which had been used by Muslim Caliphs. Monarchs such as Ferdinand and Isabel lodged within this citadel at first, but later in the 20th century, it was transformed into a prison. Today, its gardens and fountains serve as beautiful sites to visit for tourists.
ENTRY FEE:
Adult: €5
Students up to 26 years : € 2.50
OPENING TIMES:
Tuesday to Sunday from 8.45 am – 3.15 pm
Last admission 30 minutes before closing time.
Roman Bridge
Built upon Roman foundations, this bridge still rests upon its early foundations. The presence of the Umayyad caliphate brought with it corrections and enhancements to the bridge, though on the other hand it has had to be rebuilt several times due to battles and wear and tear. The Roman Bridge really is a fascinating place to walk, and once you reach the end of it, you can get a remarkable view of the Great Mosque of Cordoba.
ENTRY FEE:
Free – not a paid attraction
OPENING TIMES:
Open at all times (24 hours)
The Calahorra Tower
Located at the end of the Roman Bridge, this medieval tower once served as the primary fortress guarding the bridge. Today, visitors can enter and visit an interactive museum which showcases an exhibition on Islam, Judaism and Christianity. The museum also presents how Cordoba gained its high rank and prominence in the 10th century.
ENTRY FEE:
General: €4.50
Reduced: €3 (not sure what requirements are for this, so once you get there, sure to ask)
OPENING TIMES:
October – April
Monday – Sunday: 10 am – 6 pm
May – September
10 am – 2 pm
4.30 pm – 8.30 pm
Closed between 2pm – 4.30 pm
Closed on Mondays
The Great Mosque – Mezquita
A visit to Cordoba is not complete without visiting The Great Mosque of Cordoba. Whilst it was built as a Church and is a church today, it served as a Mosque for hundreds of years and is known primarily to be an Islamic Wonder of The World. The Umayyad's who constructed and transformed it into a Mosque, were exceptionally gifted people which translated into their artistic projects such as the Great Mosque of Cordoba. Strolling through the mosque, you'll notice the intricate aesthetic effort as well as it's serene and vast interior.
ENTRY FEE:
€11 – click here to see more info on admission prices
OPENING TIMES:
These are general opening times. The Great Mosque of Cordoba's opening times can vary depending on date, so it's best to go to their site, input the date you intend to visit and follow that. Click here to visit their site.
Once on their site, scroll down a little and click on the below button:
Andalucía is a region famous for its landmarks that are part of the legacy of the Moorish Empires. These landmarks are part of provinces such as Cordoba, Granada and Seville. From all these landmarks, visitors usually remain unaware of the fact that there are statues of luminaries hidden away in the streets of Cordoba. Such luminaries that once formed a great part of Islamic Spain.
To find out more about who the statues stand for and where they are, read more about it on our article, Statues of Cordoba. A cool idea for a fun and interactive game whilst in the city, is to have a competition where the first person to find all of the statues wins something. Just an idea! 🙂
ENTRY FEE:
Free – not a paid attraction
OPENING TIMES:
Open at all times (24 hours)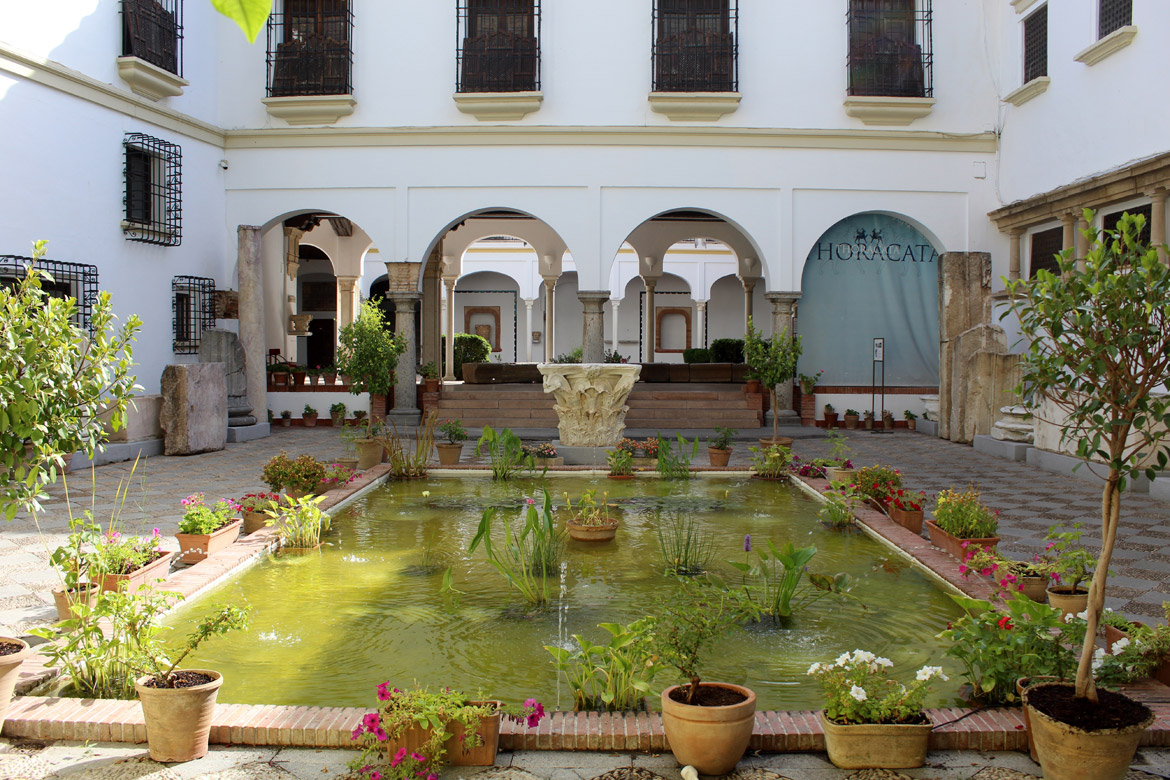 The Archeological Museum
If there's one museum everyone recommends when in Cordoba, its definitely this one. The museum is famously known for housing not only unique, but also local archeological findings from both the Visigothic period and also the Islamic periods. Whatever you're interest and however long you spend there, one thing you're sure to find when in the Museum, are beautiful gardens. It goes without saying, as it is Cordoba – the city of lush beautiful gardens!
ENTRY FEE:
EU Citizen: Free
Non-EU Citizen: €1.50
OPENING TIMES:
Mid September – Mid June
Tuesday – Saturday: 9 am – 8 pm
Sunday: 9 am – 3 pm
Closed on Mondays

Mid-June – Mid September
Tuesday – Sunday: 9 am – 3 pm
Closed on Mondays